How can I make use of user-defined results for the evaluation?
With the broad range of functions of 'User Results' you as a MAGMASOFT® user create your own results and company-specific quality criteria based on existing simulation results. This allows you to effectively expand your standardized evaluation and also adapt the results to the specific problem. In today's article, we will show you how to focus on critical hot spots in the casting.
In MAGMASOFT®, the 'Hot Spot' criterion shows you all the areas in the casting where the solidification time differs significantly from the environment. In every hot spot there is an increased risk of porosity formation. Furthermore, the tool enables you to identify residual melt areas in need of feeding. In these cases, the 'Hot Spot' criterion helps you to improve your understanding of the solidification process.
Assessing the risk posed by a specific hot spot is difficult based on its size only. A specific user-defined result can assist you in finding a solution for this problem.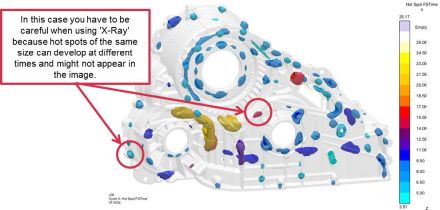 Figure 1: Original 'Hot Spot' result
Based on the original 'Hot Spot' result, you can use the user-defined 'SpotsLimit()' result to not only view the exact time of formation but also the volume or the solidification time. In Figure 2 you can see the comparison between the original and the modified 'Hot Spot' result.

Figure 2: Original 'Hot Spot' result (left);
modified 'Hot Spot' result (right)
You can now use the modified 'Hot Spot' result for the in-depth evaluation of hot spots. The 'X-Ray' function will help you to easily hide non-critical areas. In the present example all hot spots taking less than 1.5 s to solidify are hidden, allowing you to focus on those hot spots taking longer to solidify (see Figure 3).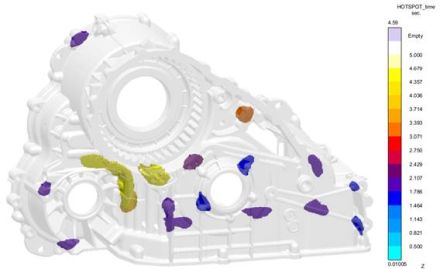 Figure 3: Modified 'Hot Spot' result
in combination with 'X-Ray'
Would you like to find out more about this topic? In this case it is a good idea to attend the workshop "Inverse Optimization and 'User Results'" [LINK] taking place at MAGMAacademy in Aachen, Germany, on April 26 and September 29, 2018 (German language) or December 12, 2018 (English language). In this workshop you can learn about the options available for inverse optimization as well as for creating user-defined results with MAGMASOFT®. Hereby you further adapt your simulations to the reality.